Issue 13 / September 2008

THE BOND MAN COLLECTION - WHERE PROPERTY AND ART MEET

I am grateful for these relatively quiet times in the property market. It's given me the chance to tweak certain aspects of my business and has allowed me the luxury of combining two of my passions - property & art - within my revamped business premises in Sea Point.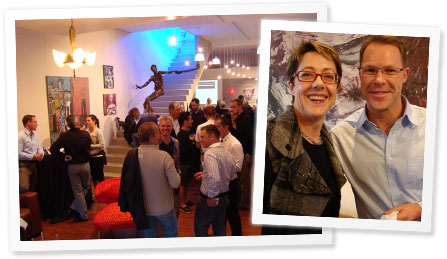 Launch of The Bond Man Collection at The Bond Man's office premises on Sea Point's 'Property Mile' - 204 Main Road, Sea Point
Christine Cooper of von Lieres Cooper & Barlow and Peter Smith
of Seeff

The Bond Man Collection was launched on 5th September and I am delighted to showcase the works of talented Greyton artist Gert Naude in the inaugural exhibition. We also have some fun works by David Kuijers and some stunning creations by Zimbabwean sculptor Mambakwedza Mutasa, whose work I have promoted in a previous newsletter. I envisage that we'll display a constantly changing collection of paintings, scultptures, ceramics & mobiles and I invite you to pop in the next time you're in the area.

Please check out our updated website at www.bondman.co.za which includes this exciting new aspect to the business.

Louise Killeen of Kapstadt International with
Kim Faclier
Peter Spencer of Pam Golding Properties and Priscilla Schoonbee of Connie Johns Properties
OPPORTUNITY KNOCKS
---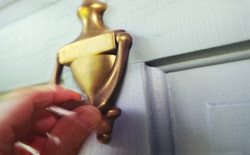 Some believe that the current interest rate cycle has peaked and that we'll start to see the bond rate coming down during the early part of 2009.

The graph illustrates the sorry history of South African mortgage rates over the past 23 years. If you think rates are high now, you may find it sobering to know that they remained well above their current level for a period of more than 11 years until October 1999. How many of you recall those dark days in September 1998 when interest rates shot up to 24%?




We've noticed a definite upswing in actiivty in the City Bowl and Atlantic Seaboard over the past few weeks. It's difficult to tell whether this is the start of a trend or simply a seasonal phenomenon - the annual emergence of Cape Town buyers from their winter hibernation. Whatever the case, I've been pre-qualifying loads of potential buyers who are poised to snap up well priced properties in what is undoubtedly the best buyer's market we've seen in years.

In this regard, I'd like to draw your attention to a wonderful opportunity to acquire a limited number of units within a security complex in my favourite part of the City Bowl. To find out more, take a look at my 'Property of the Month' listed on the right.

SIGN OF THE TIMES

Here's a sale you won't find splashed across the brag pages of the
Property Times!

Taken on at R18,75 million , the asking price of this house in Fresnaye was reduced to R14,75 million and it finally sold for R8,25 million (44% of the original asking price).

Could properties on the Atlantic Seaboard be finding their true value at last?


---

Regards,



Gary Peterson
The Bond Man
gary@bondman.co.za | www.bondman.co.za



FAST FACT
ACCESS BONDS

Did you know that there have been significant changes to the way your "Access Bond" works? Until recently, you could automatically withdraw the difference between the original loan amount granted and the current outstanding balance. Most banks will now allow you to withdraw only the advance portion of your bond. This means that you now have access only to the funds that you have paid into your bond over and above the minimum monthly repayment required.

In other words, the banks want to see the capital portion of your bond reduce in line with a 20 or 30 year term, and not simply rolled over indefinitely.
PROPERTY OF THE MONTH
ST JOHN'S WOOD, HIGGOVALE
Asking price: from R1,950,000



There are a limited number of units available within a security complex in my favourite part of the City Bowl. St John's Wood is nestled at the foot of Table Mountain, in leafy Higgovale.



The complex is in the process of conversion from shareblock to sectional title. The units in question are all unrenovated 2-bedroomed duplex maisonettes, measuring 90 square meters in extent. They all have gardens & garages and offer amazing potential for upgrading. These units are available directly from the seller from R1,950,000. I doubt that anything represents better value for money in Cape Town today.

Only potential buyers (not estate agents) should contact THE BOND MAN for further details and to arrange a viewing.
CALLING ALL SUCCESSFUL MORTGAGE ORIGINATORS!

Independent Initiatives provides independent mortgage originators with a comprehensive support infrastructure, which enables the delivery of a wide range of products and services structured to meet the needs of an ever changing industry. From The Bond Man's perspective, it's great to know that I can rely on the support of Independent Initiatives, whilst retaining 100% control of my business. Over the years, I've been approached by several aggregators who have wanted me to come on board, but none of them has been able to match the very substantial "value added" benefits that flow from being associated with Independent Initiatives. Dynamic, successful originators with experience in the industry should contact Mike van Alphen on 082 453 5733 with a view to positioning themselves to make the most out of the next upturn in the market.
CONTACT US

Telephone: +27 (0)21 433 1060
Fax: +27 (0)21 433 1062
Mobile: +27 (0) 82 453 7374
Email: gary@bondman.co.za
Website: www.bondman.co.za

Office address:
204 Main Road, Sea Point